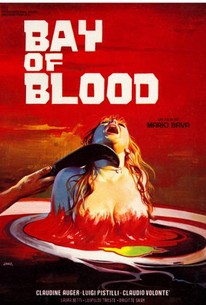 In the horror circuits: A Bay Of Blood is hailed as the grandfather of the erstwhile "Slasher Flick". The first of it's kind, predecessor to contemporary classics such as Friday The 13th, and The Burning.
But each story has two sides, and thus is the story of Mario Bava, director of A Bay Of Blood.
You see, Mario Bava was a lord of both Italian cinema and European horror. Black Sunday was a seminal film of the 1960's and predated the hammer horror "Gore and Girls" genre of horror whilst maintaining a sophisticated Italian flair. Bava's follow up Black Sabbath, starring Boris Karloff, cemented Mario Bava as one of the most important Italian film-makers of the 20th Century. Later on, Mario Bava would create the "Giallo" genre of film with Blood and Black Lace and revolutionize Italian cinema making way for acclaimed film-makers such as Dario Argento and Lucio Fulci.
A Bay Of Blood was made in 1971, the last decade in Mario bava's career (He would later die in 1980) and unfortunately, it shows. Compared to Mario Bava's other works, A Bay Of Blood seems to focus on copious amounts of blood and gore more so than intelligent film-making. It's very different when compared to the focus on suspense and atmosphere in his earlier works such as Black Sunday or Black Sabbath.
A Bay Of Blood is very competently made much like Mario Bava's many other films. The cinematography (done by Mario Bava himself) is absolutely beautiful. The actors give decent performances for their off-beat and almost maniacal characters (especially for Italian films in the 1970s) and the bay is a stunning view every time it appears on film. I don't know whether it was accident or intentional, but Mario Bava captures the glimmering of the rising sun's reflection on the bay in numerous scenes, and it's simply captivating, like a stunning photograph. In conclusion; the film looks good and is very well made.
However, when it comes to content there's a very direct focus on sex and violence in A Bay Of Blood, making it feel very different to Mario Bava's other works. Scenes of naked women running around the lake and clips of brutal, bloody murder are more memorable than the films (arguably confusing) plot, offbeat characters, great cinematography and bizarre ending. This makes the film quite enjoyable to Grindhouse Gorehounds such as myself, but I feel that it wouldn't really appeal to fans of Mario Bava's early works, or even 1970's Italian Cinema overall.
Luckily, this film found a captivated audience in America and was a major inspiration on Sean Cunningham's Friday The 13th franchise. So in many ways A Bay Of Blood is more of a cultural success than a cultural flop, birthing so many genres of pure sex & violence in the years to come…marvelous.
I would definitely recommend this film to horror fiends to see where a lot of Slasher Flick staples originated because the film itself isn't bad, not by any description, and it's easy to see how it influenced many American horror movies of the 1980's. However, I would only recommend that people watch a fully uncut version of A Bay Of Blood in all of it's gory glory, as watching a cut version really downplays the impact of this film, and isn't worth watching at all.